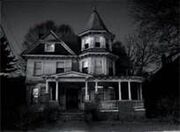 Old creek was a small town in kentucky.A mansion was in the city, but no one wanted to live there. in the mid 50's a group of boys decided to take a look in the mansion. the first two decided to go into the master bedroom and the one with the camera went inside the basement. there was a loud scream and the two boys heard, trampling eachother out the door. it is unknown what happend to the third boy, police are still investigating the mansion, but the door for the basment has dissapeared. OFFICER JOHN COLMAN SAYS: i have had the problems as a paronormal investigator, but this mansion in ol' creek is just to much. DECEMBER 21, 2012: This is fox news finding a dead skelaton in old creek mansion. the body appears to be zack johnson's. now on to the 5 day forecast...                                                               If i were you, stay out of buildings that are old, will ya?
Ad blocker interference detected!
Wikia is a free-to-use site that makes money from advertising. We have a modified experience for viewers using ad blockers

Wikia is not accessible if you've made further modifications. Remove the custom ad blocker rule(s) and the page will load as expected.